Dit evenement is voorbij.
"The Mechanicals" door Solstice (uit a Midsummernight's Dream van Shakespeare)
15 september/20:30

-

21:30

€8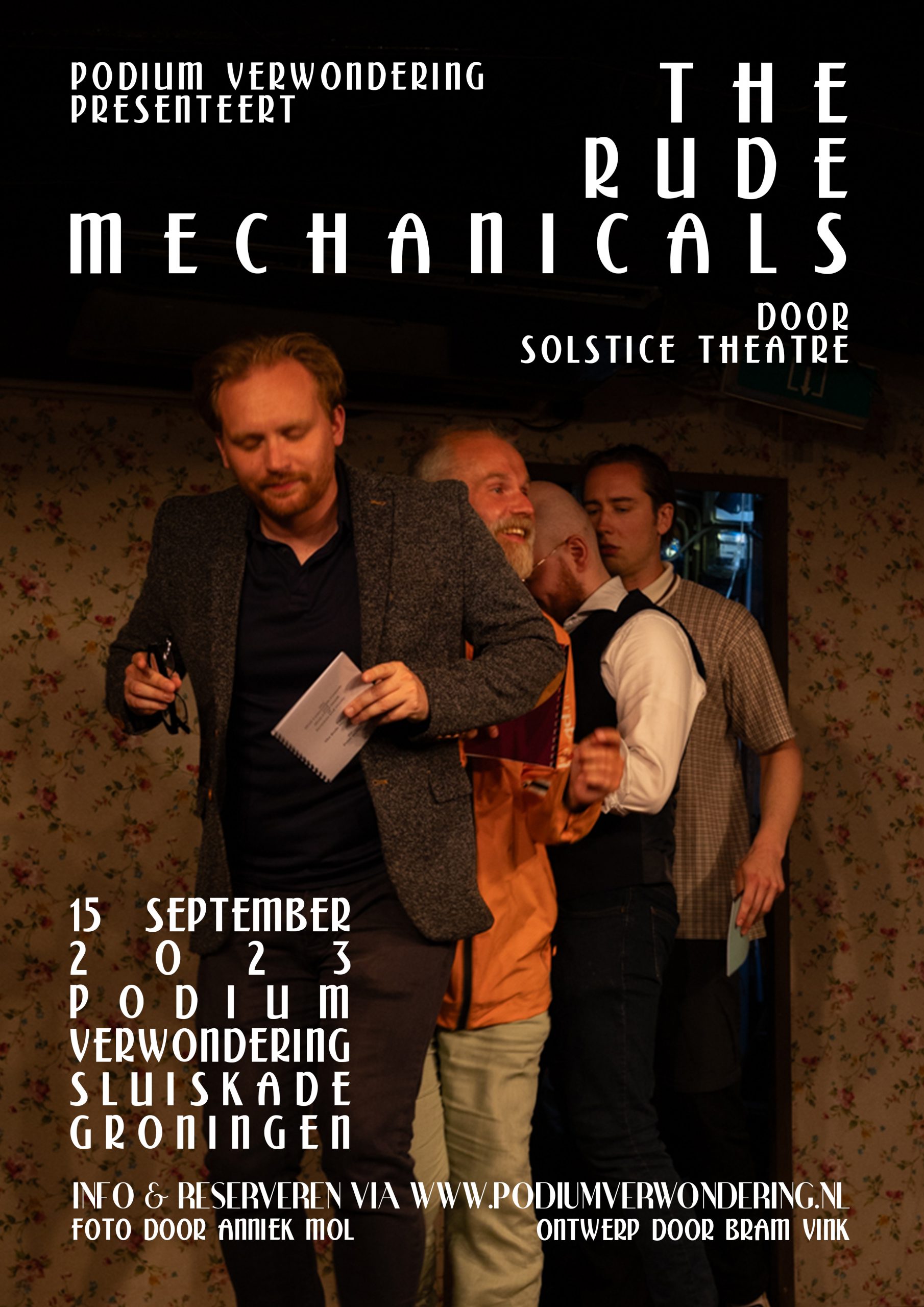 "The Rude Mechanicals" door Solstice Theatre
Een Midzomernachtdroom is een verhaal vol drama, verwarring, magie en feeënstreken. Het hof van Athene en de feeën van het woud maken het zichzelf maar moeilijk met alle liefdesperikelen, misverstanden en machtsstrijden.
De werklui van Athene, daarentegen, houden het gewoon lekker simpel; zij willen het toneelstuk Pyramus & Thisbe opvoeren voor de hertog, omdat hij net is getrouwd. Als je dat goed doet, kun je daar namelijk flink aan verdienen. Ze hebben verder geen ervaring met theater, maar zo moeilijk kan dat toch niet zijn? Meer dan de tragische vrolijkheid die de Mechanicals op de planken zetten heb je toch niet nodig voor een leuke avond?
Wij presenteren daarom met trots; the Rude Mechanicals in Pyramus & Thisbe! Maak het verhaal van de ruwe werklui mee zonder alle toestanden en het gedoe met feeën en geliefden. Een verkorte, behapbare interpretatie van één van William Shakespeare's meest populaire komedies, maar wel in het originele Engels van Shakespeare's tijd!
Zaal open: 20:00
Aanvang: 20:30
Entree: €8,-
Alvast reserveren? Dat kan! Reserveer door ons een mailtje met je naam, de naam en de datum van het evenement en het aantal kaarten dat je wilt reserveren te sturen. Wij zetten je vervolgens op de lijst! Hier ontvangt je een bevestiging van.
English
A Midsummernight's Dream is a story full of drama, confusion, magic and mischief. The court of Athens and the fairies in the forest are constantly caught up in misunderstandings, power struggles, and love-triangles.
The crew of Athenian workers, on the other hand, keep things nice and simple; they just want to perform their play, Pyramus & Thisbe, for the Duke of Athens during his wedding celebrations. If done right, they could make quite a bit of money for it. They don't have any experience with theatre but how hard can it be, really? If you want to have a fun night on the town, look no further than the tragical mirth put on stage by the Rude Mechanicals!
We are therefore proud to present; the Rude Mechanicals in Pyramus & Thisbe! Experience the story of the Rude Mechanials without all the hassle and confusion concerning fairies and lovers and things.
A shortened, manageable version of one of William Shakespeare's most popular comedies in the original English of Shakespeare's time!
Doors: 20:00
Start: 20:30
Entrance fee: €8,-
Do you already want to make a reservation? That is possible! Make your reservation by sending us an email with notice of your name, the name and date of the event and the amount of seats you want to reserve. We will put you on the reservation list! You will receive a confirmation of this.